Hill Crest Laminating, LLC employs the latest technologies to produce quality lamination products. Our production facility in Danville, Pennsylvania, is equipped with both Flame and Adhesive Lamination capabilities.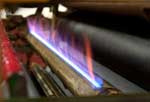 Flame: The Flame Laminating Process involves passing urethane foam by an open flame, which causes the surface of the foam to melt or flow, creating an adhesive. This molten material bonds to the surface of the fabric. The fabric/foam combination then passes through a device called a nip roll to complete the lamination process.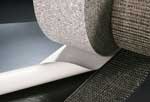 Adhesive: The Adhesive Laminating Process utilizes a latex or acrylic water-based adhesive for laminates up to 64" wide. The adhesive is applied directly to the material and metered with a knife over a roll. To ensure the correct amount of adhesive is applied to the substrates, a known measurement allows our technicians to meter the adhesive to achieve the desired bond.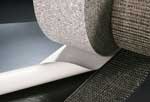 Our capabilities also include Dry Web and Film Adhesives. These methods are used for laminations up to 60" wide that require a machine washable and dry cleanable laminate. All of our lamination processes are non-hazardous and environmentally friendly.